Martin Parr
So there is a bit of a buzzz going on about Martin Parr's contributing essay in the 2017 facsimile publication of the late Gian Butturini's (1935 – 2006) photobook "London", self-published in 1969. For the record, I have not seen either the 1969 or the 2017 facsimile edition. I have seen that ArtBook has stated that the book has "cult status", which is interesting in as I have only heard about Butturini and London now. So thanks to this buzzzz, I have become aware of both Butturini and his book.
Nevertheless a person who noticed a rather distasteful juxtaposition within the book, pairing below, of a black woman and a gorilla, went after Parr to eliminate his Artistic Director position with the Bristol Photo Festival. Evidentially you can't go after the deceased photographer who created the photographs and the editor of his self-published book.
Nor go after the late Allen Ginsberg (1926 – 1997), although I don't know about his poem that was published with this book, but I suppose a campaign can be initiated to discredit him as a result as well for being included in the book. Would an attack on Ginsberg then be considered an anti-semitic or anti-LGBT rant? Not sure you can pick and choose who to persecute; usually it is either all or none who participate.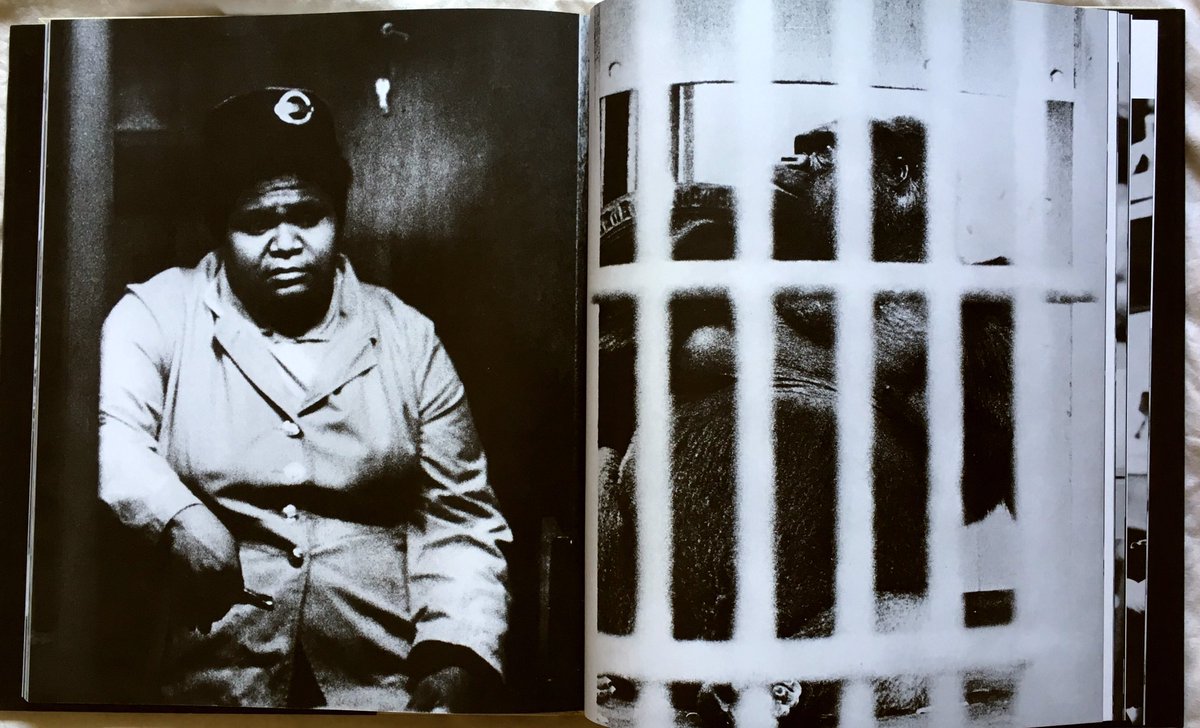 London by Gian Butturini, copyright 1969, facsimile 2017
Regretfully, I think some positive opportunities has been missed in favor of wanting to be punitive in order to score some culture points. And to be clear, I am not stating in any way that this one-page spread is acceptable, it is not, but rather we need to have a discussion about how to address historical documents, such as facsimiles of older photobooks, that contain some terrible visual associations.
What I do know is that the original London photobook was self-published, thus the editing and pairing of the photographs within the book is all on the late Gian Butturini. We might look at Butturini's other work to determine his racial bias that might support his reason for this image -pairing. What is the boarder context of this imagery. How does this pairing relate to the those preceding and after? Could Butturini have another association/meaning of this pairing, which in today's socially sensitive environment, be overlooked or now recontextualized? Looking at the above interior book photo, it almost appears that the left side image is part of a gate fold; if so, what's revealed when the gate-fold opens up? Does that change the context? What is the larger narrative? Does this association seen above change? If so, how? So far, I have been unable to determine if there is a gate-fold at this point in the book. Also, researching the net I have failed to find a comparative study of the 1969 original and the 2017 facsimile; do they have this same photo spread? (Update: apparently this photo spread is the same in both editions)
But if the original Butturini book London is considered to have "cult-status" and a publisher wanted to re-issue it, what then to do about page spreads that are socially offense, such as these? Would a disturbing paring still be included in conjunction with a Foreword or Afterword essay to discuss the inclusion of a pairings and the social ramifications? This particular image pairing is a result of a deceased artist's decision, thus represents his body of work, perhaps not to be ignored. Would the 2017 facsimile become as equally "offense" book if this pairing had been eliminated to provide a spot varnish on a potentially bigoted artist's work? I think that would be equally troubling.
It's obvious that this photographic pairing was not singled out and discussed by Parr. Perhaps now it might have been much better if Parr could have discussed his review process at length as to why this paring was not discussed. What was he thinking while going through this book and observing this pairing? Did he in fact notice it or was he distracted by other photographs and pairings by Butturini that he wanted to delve into? That would have allowed a broader dialog and my opinion that is being missed.
That this distrubing photographic paring was found does warrant a border discussion about historical books, the images within and the alternative ways in which these photographs can be discussed to help eliminate racial bias. I am not sure that Parr's head should have figuratively placed on a British pike. (Okay, in retrospect for Parr and his studio team's insensitive response to the initial inquiry and subsequent stonewalling before finally acquisitioning, maybe so).
Cheers & stay safe,
Doug
Note; Also be clear, I am a bit like Parr, an older white male, that is a heterosexual of Scotch-Irish-English decent who has grand-children, as well as a book-nerd. As a book reviewer for PhotoBook Journal with over 500 photobook reviews completed, I would hate to have someone comb through all of these books to find something that appears "offensive" or politically incorrect for some group or faction. I probably have missed something sensitive, as did Parr. Just saying…so per this current protester, like Parr, due to my age, race, gender, gender-orientation, I guess I am to be 'dismantled'. sigh. (Update: Apparently this statement is not being read as sarcasm, now realizing that I should have included a "Sarcasm Alert") since the PhotoBook Journal does extensively cover authors who are Person of Color, whether Black, Brown, Tan, American Indian, Asian, whether male or female, as well as Jewish, Muslim, and the LGBTQ community, as the fight against racism of any kind or sort must continue).
Update (07-25-20): After thinking about this overnight, one alternative reading I am considering is might these two photographs in juxtaposition have been a social/economic criticism of the working conditions in London in the mid 1960's?  That the opportunities for minorities are very limited and people of color and other countries are in sub-wage positions and jammed into boxes (aka "jobs), similar to animals? Since Butturini is dead, we don't know if this were the case and what other combination of images he had to choose from to make this potential social/economic criticism. That the facing image of the caged animal is also a gorilla has taken on a revisionist meaning over the years as implying racism when juxtaposed next to people of color and this may have been unfortunate set of editing decisions on Butturini's part. I find myself wanting to obtain a copy of this book to investigate further. Sorry we can't talk to Butturini about this current situation.
Update (0726-20) From Butturini's intro in his book "London":
"Of course, I have not photographed the Queen's Guardsmen, stiff and starchy as plaster statues. I did photograph a black woman, locked in a transparent cage; she was selling tickets for the underground: just a listless prisoner, an immobile island outside of time in the midst of the waves of humanity flowing by and mixing and then spilling aside around her prison of ice and solitude.
I did not photograph the keepers of the Tower or the City bankers with umbrella and bowler hat. I did photograph the Regent's Park gorilla, which with imperial dignity receives the witticisms and peel thrown at it by its nephews in ties."
… 
"London is the capital of an undone empire that's been put up for sale. The blacks are sad. The blacks are good. The blacks are dignified. I was photographing them in Portobello Road, but they forced me to flee. 
At Speaker's Corner, however, I was able to photograph them. On Sundays, they crowd around a box to listen to one of them give them a sweet fairy tale about freedom of equality of racial integration."